Your Instagram bio is crucial to make a strong impression on your followers and visitors. A well-crafted Instagram biography can be what titlts the scales towards a new follower or a new click on your Link in Bio.
You don't have a lot of space and you need to share the most important information about you or your business to capture the attention of your visitors in the shortest possible time.
So let's start at the beginning and see how you can craft an awesome Instagram bio and increase engagement with your audience.
What is the Instagram Bio?
First things first, the Instagram Bio is that short text shown under your username where you can provide details about yourself or your brand/products. While it's mainly plain text, the Instagram biography can (and should!) contain Emojis, Hashtags, Mentions of other accounts. You can also write your phone number and email, but they won't be clickable.
You should not place websites/links in your Instagram biography. For that, you should use the website field and use a Link in Bio. But that's another story, and you can read more about it here.
Here's an example of how an Instagram Biography looks like in the Guggenheim Museum's account. The bio is the text within the purple border in the screenshot below.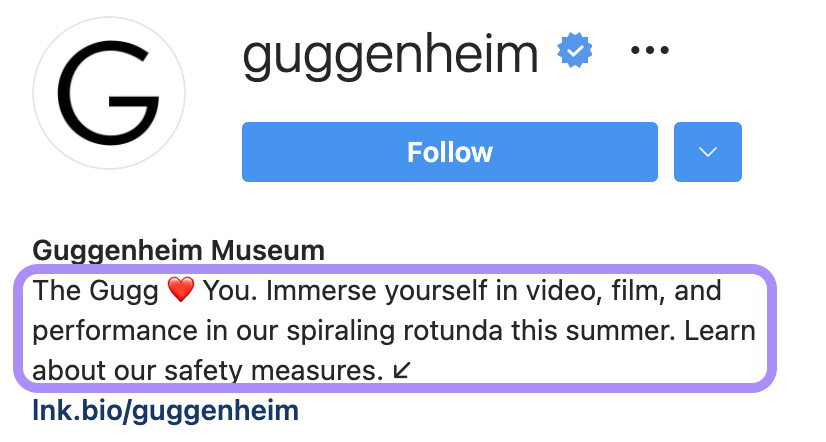 Below is a second example from Lonely Planet. The Instagram Biography is still contained in the purple border and as you can see they make use of #Hashtags to engage with their audience.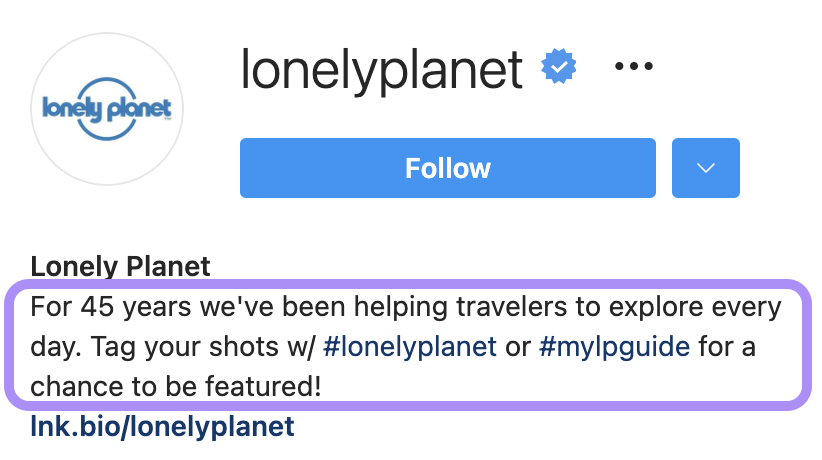 How can you set your Instagram Bio?
So now we know how the Instagram Biography looks like, but how can you set your own?
The process is pretty much straightforward, and will take you only a few seconds.
1. Open the Instagram App and head over to your Profile
2. Tap on "Edit Profile"
3. Scroll down until you see the "Bio" and edit it as you please.
For a more in-depth walkthrough, please read this complete guide to edit your Instagram Biography.
What should you write on your Instagram Bio?
We've just learnt what is and how to edit your Instagram Bio. Now to the interesting part: what should you write on your IG Biography? Here are a few tips:
1. Provide a clear and strong statement about what you do
Doesn't matter if you represent a business or your personal account, it's important to be clear and direct about what you do and what you're posting on your Instagram profile.
Your Instagram biography should be as short as possible but contain a clear indication of who you are and what you create.
Here's an example of a great, direct and precise IG Biography from The Bail Project (you should follow the btw!)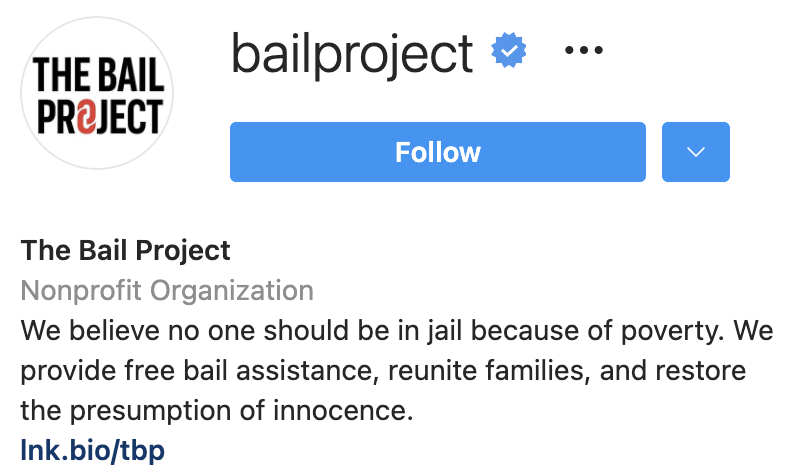 2. Provide a quick way to get in touch
Yes, you can use Instagram DMs. Yes, if you have a business account you can add your email there. However, to increase conversion you should make it as easy as possible to get in touch with you.
That's why even top-tier celebrities like Miss Universe Pia Wurtzbach add their (or their agent) contact info in their Instagram Biography. You should too!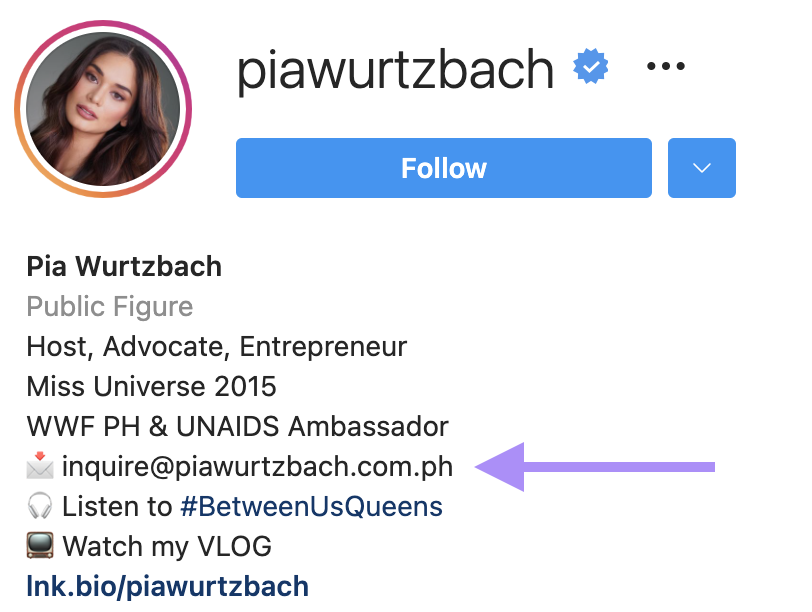 3. Tag your businesses/other accounts
It's important that you cross-link among all your online presence. Your personal account should mention your brand, your brand should mention you as a founder/contributor.
The more you cross-tag, the more your audience can follow either your professional or personal profile or both and you can thus increase your engagement with your audience.
Here's a fanstastic IG Biography from Ronne Brown tagging her businesses and providing detailed and professional details.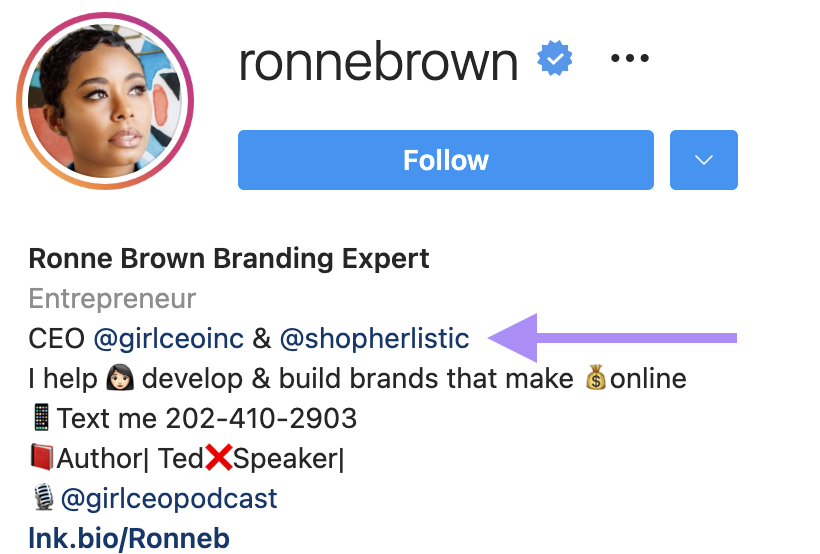 4. Hashtag all the things you love/support/promote
Hashtags are a quick way for people to find your products, brands, collaborations, collections, artwork etc. Add as many hashtags as you need to quickly show people what you're all about.
From small influencers to actors and celebrities like Love Poe, adding hashtags to your Instagram Bio can truly increase interactions on all your projects.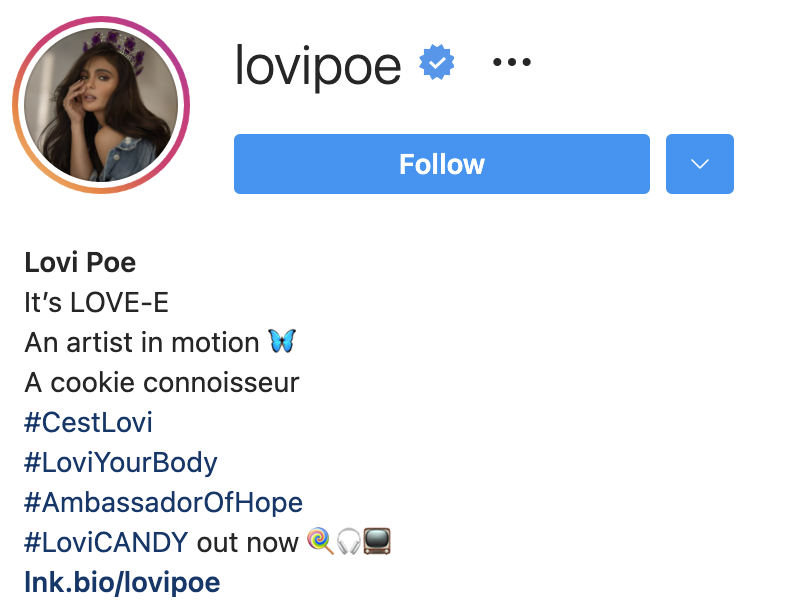 5. Share your Location for local collaborations
Instagram has global reach, but many collaboration opportunities are local. Sharing very clearly where you are based and where you can work will give you an advantage to work with local brands or engage with local audiences.

You can either choose to be generic, e.g. by sharing the flag of the country you live in, or more specific by sharing the State/City. Be safe, don't share too much details (neighbour, street, etc..), the city is more than enough!
Here's a good example from International MUA Julia Shitova's IG Bio, showing where she works.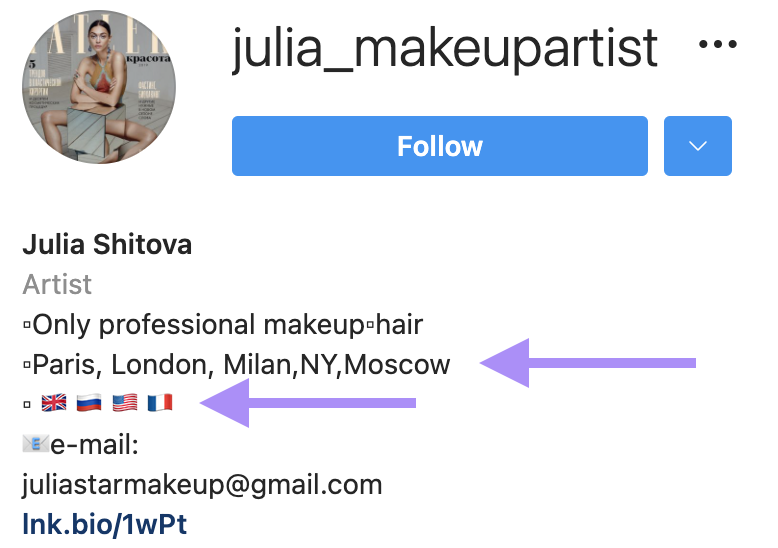 6. Be funny!
Another completely different approach is to be funny and memorable in your Biography, maybe instead of oversharing you can share very little and make people curious. This is especially good for larger accounts or accounts where it's very very clear what you do so it's reduntant to explain it and therefore you can use the Instagram Biography to differentiate yourself within your vertical.

Here's a nice example from the singer Thuy, saying that she "sing a lil"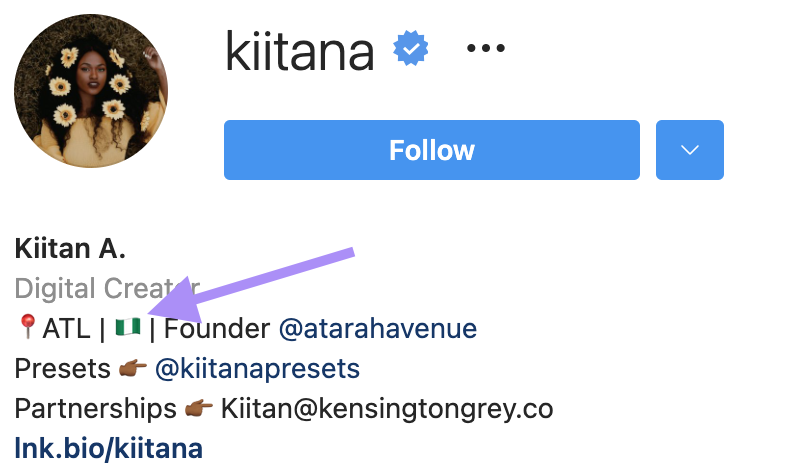 Conclusion
Your Instagram Biography is one of the most powerful tools you have to capture the attention of your Audience the first time they see your profile. It might bring you a new follower or client.
You should take your time to craft it to provide a clear mission statement for your account and ensure that you provide enough info for your audience to be able to understand your account and engage with you.