Agencies have a very unique set of necessities that differ from most Link in Bio users. Media Agencies, Influencer Agencies and Social Media Agencies all share the necessity to manage multiple profiles, multiple links and multiple campaigns at the same time, and a single point of control is crucial for their operations to run smoothly.
If you work in an Agency and are planning to use a Link in Bio service, you need to ensure they offer the following features:
1. A quick way to signup/setup your Agency profile to manage multiple accounts
Unfortunately, most platforms still require you to get in touch manually to set up your Agency account and they are not transparent about pricing an features. This means spending a lot of time communicating, listing your requirements and then ultimately probably not finding what you're looking for.

Make sure your Link in Bio provider has a clear pricing dedicated to Agency or Multi-Account and that they clearly display their pricing. At this address you can find how Lnk.Bio shows their pricing, divide it into categories and list all the features they offer for each plan, including how many accounts you can manage.
2. A single dashboard to manage multiple accounts
This is the most important feature: you need to be able to log in to one single dashboard that allows the management of multi account. It must support many accounts as you need and have a quick way to switch from one to the other.
Here's for example how Lnk.Bio manages their Agency dashbord.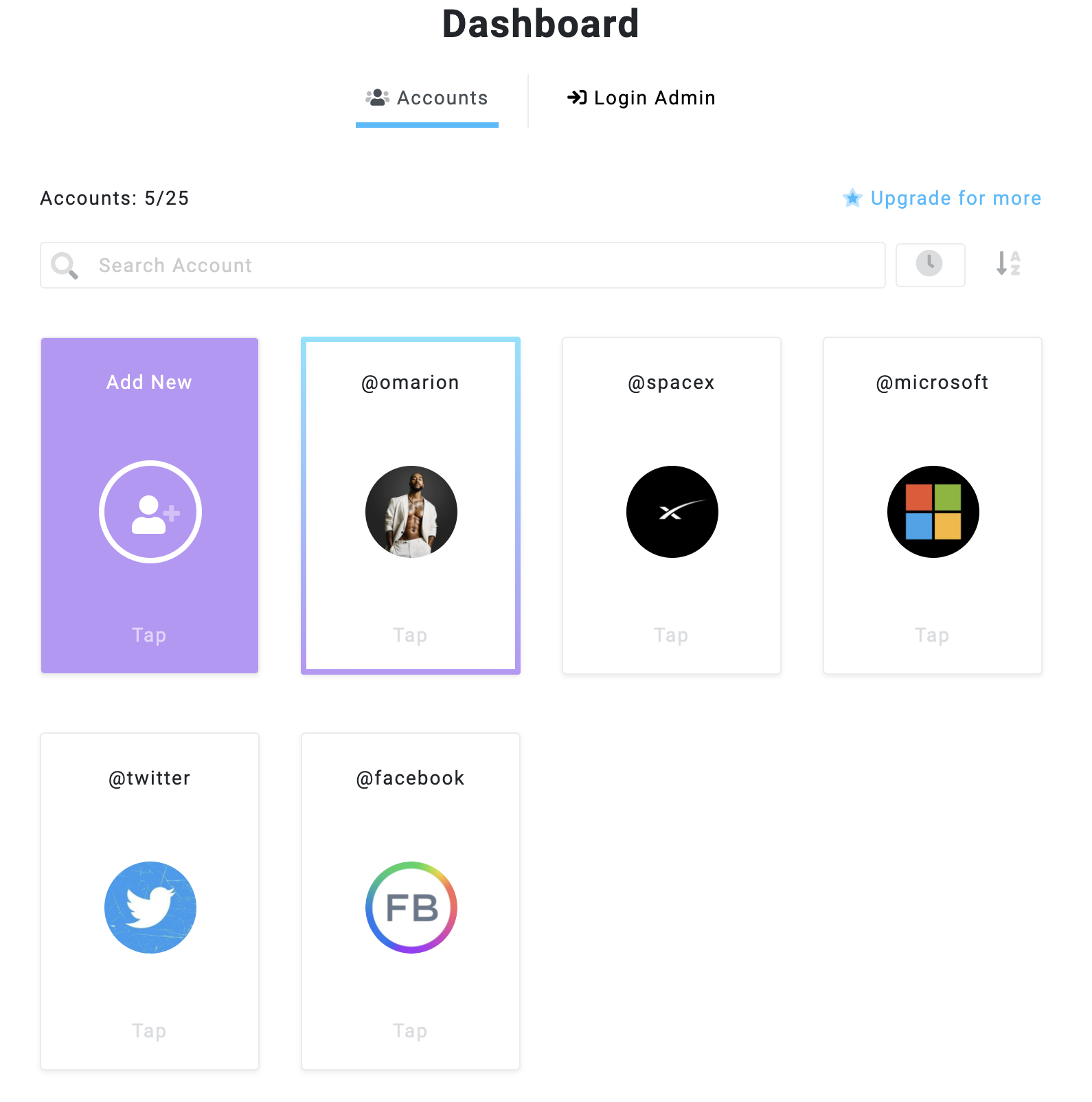 Each account is quickly accessible, editable and you can switch back to each of them quickly from both Mobile and Desktop.
3. Pinned/Highlighted Links
Campaigns and Promotions are important, they need to go live quickly and be in a prominent position on the Link in Bio of the accounts you manage.
So make sure the following features are available:
- Pin Link to the top, so that your promotion stays in the most visible position
- Highlight, so that a visibility effect (e.g. shake) is applied to your promotion
Here's a screenshot from Lnk.Bio showing the two features mentioned above:
4. Schedule!
You and your colleagues can not always be present when a link must go live. So your Link in Bio solution must offer options to schedule your Links so that you can set them in advance and don't work during the weekends (work/life balance!).
Many Link in Bio platform offer the Scheduling of Links, but few also allow to automatically post on Instagram. Lnk.Bio for example offers the possibility to schedule Posts that go live at the same time on Instagram and Lnk.Bio, so your Links are always up-to-date with your Instagram posts.
5. Multi-login access
Finally, as most Agencies have multiple colleagues logging in with different priorities, your Link in Bio platform must feature a multi-login system.

Ensure that you can invite your colleagues via email, each with their own separate account and different permission level. So everyone can do their job without sharing password/accounts which might be potentially risky from a security and operation perspective.


Final Notes
In conclusion, make sure you choose a Link in Bio platform that provides all the tools you need to run your Agency efficiently, saving time (and money!) while managing multiple profiles.